People have always enjoyed adventures. Adventures are what makes adrenaline go up and makes us feel joyful and happy. There are many kinds of adventures that people like. Types of adventures vary from adventurous sports to traveling and other not so mainstream types of adventures. Canoeing is like an adventurous sport. Canoe boats were used by the Native Americans to carry them through North America. The first European people in the new world used canoes to trade from the frontier into the interior of North America.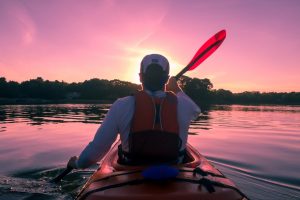 Canoeing has always been a great way to escape from the civilized world into the wilderness! Just imagine how romantic it must be to be surrounded by the water and green forests! It is a true miracle! So what do we need to go canoeing? It is not as intimidating as it may seem. Before going on a canoe trip, you need to prepare and plan. For that reason, in the following paragraph, we will explore what is needed for an exciting and safe canoe trip.
STEP ONE: DECIDE WHERE YOU DESIRE TO GO CANOEING
Do not get carried away by your romantic fantasies about canoeing. Try to find the location that is the safest. Between flatwater and whitewater trips, choose flatwater trips. If you are a beginner start slowly and safely. You do not need to get yourself in trouble, gain some experience, learn new tips, and always opt for safety. It will help you enjoy and relax.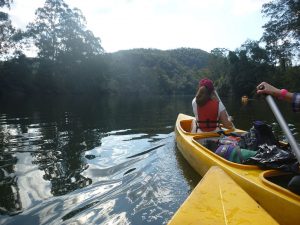 STEP TWO: DECIDE WHO YOU WANT TO GO CANOEING WITH
Do not go canoeing with people you have not seen for a long time. This is not good even for the regular summer trip. You need to know your travel buddies' habits before you go on a trip. This is especially important when it comes to canoeing. You need to know how your friends react in dangerous situations, how well-prepared they are, how ready they are to face certain situations. If you choose the right canoe partner you will not have anything to worry about, you will cooperate. However, if you do not choose the right partner, be ready to face many problems.
STEP THREE: DECIDE WHEN TO GO CANOEING
It is important to decide when to go canoeing. If you are a beginner look at the weather forecast, do not go when it is cold or rainy, try to choose sunny weather because you are surrounded by water in a canoe, you never know what can happen.
STEP FOUR: PLAN AND PREPARE
Make a plan where you will canoe and share it with your friends. Bring appropriate clothes and dry bags. Bring food with you. This is not a regular beach trip, it is canoeing, so prepare accordingly and have a great time!